Your best night's sleep starts with beautiful pyjamas
How to pick the perfect pjs for a peaceful slumber
Published by Lucie Clark for Homebodii
Waking up after a great night's sleep always makes us feel amazing. There's nothing better than bouncing out of bed feeling refreshed and ready to take on the day.
Indeed, a great night's sleep every single night is so important for our overall health and happiness. According to Heathline, getting a good night's sleep may help improve concentration and productivity, boost athletic performance, and improve immune function among other important health benefits.
So, just how do you set yourself up for a great night's sleep every single night?
Great sleep starts with great sleepwear
Along with a regular sleep pattern (i.e going to bed at the same time each night), avoiding caffeine right before lights out, winding down before bed, and making the room comfortable, what you wear to bed is one of the keys to a peaceful slumber.
A great pair of pyjamas or beautiful sleepwear will assist in sending you into the dreamiest of sleeps. When picking the perfect pair of pjs, consider the fabric — natural fibres like cotton are a wonderful choice for so many reasons.
Cotton is soft, comfortable, breathable, naturally sustainable, hypoallergenic (it won't irritate your skin), low-maintenance and doesn't cling. This snooze-inducing fabric will have you in the land of nod in supreme comfort every single time you slip into your cotton pjs and slide beneath the sheets. And, it makes for an ideal option to keep you comfortable in the warmer months of spring and summer.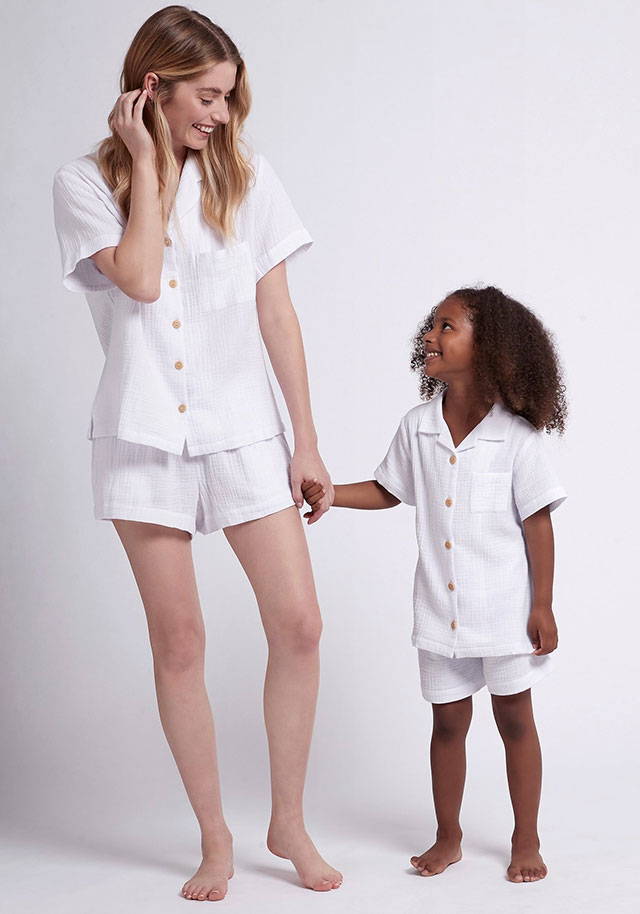 "I always think a day when you never get out of your pyjamas is a win."
— Mark Hamill
Here at Homebodii we're big fans of cotton pjs and that's why we love our beautiful Piper cotton sleepwear range so much. We think you'll love it too and will have a very good night's sleep with your Piper pjs on.
Made from 100% cotton, our Piper range comes in multiple colours and sleepwear options including a super cute matching short pyjama set, a matching short-sleeve, long-pant pyjama set, a luxuriously soft robe, and adorable matching kids sets for the mini me in your life.
Cosy, cute and comfortable, our Piper matching short pj set with its soft bubble detail and wooden buttons is so stylish and comfortable it can take you from the cosy confines of your bedroom to brunch out with friends with only a quick footwear change from slippers to slides. Our Piper Bubble Cotton Robe is equally as versatile, slip it on after a swim or straight out of the shower. And of course, don't forget to make your pjs just for you with our personalisation service.
Shop our Piper cotton pjs here and enjoy a beautiful night's sleep!