Why you (and the planet) will love TENCEL™ sleepwear
Published by Lucie Clark for Homebodii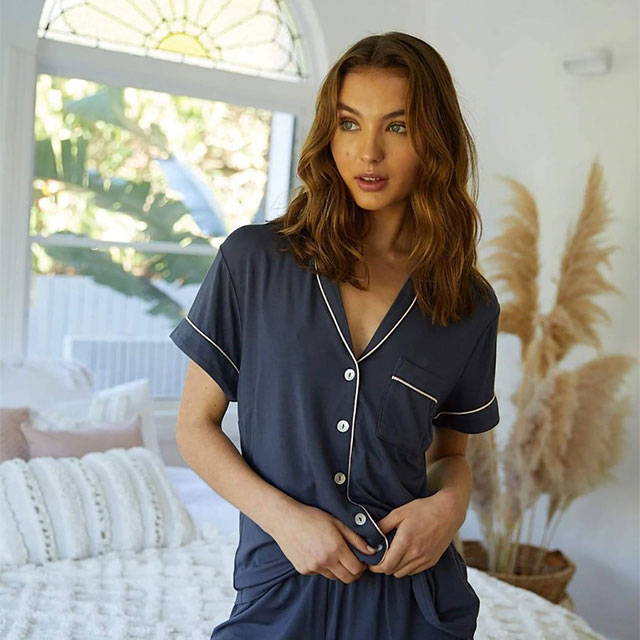 Supreme comfort is something we're all looking for when it comes to sleepwear. Slipping on a buttery soft pair of stylish pyjamas and sliding between the sheets sets the scene for a dreamy night's sleep. And when it comes to comfortable pjs, so-called 'miracle fabric' TENCEL™, is the ultimate pyjama fabric go-to.
Read on for why you and the planet will love TENCEL™ sleepwear.
What is TENCEL™?
TENCEL™ is a plant-derived fibre made from sustainably sourced wood sources manufactured in an environmentally considerate closed-loop process. There are two types of TENCEL™ branded fibres – Lyocell and Modal. TENCEL™ Lyocell and Modal are known for being extremely soft to wear and when combined with other textiles (think: cotton, wool and silk) increase the overall softness, comfort and look of the fabric. And with its sustainable manufacturing process, it's also an eco-conscious choice.
TENCEL™ sleepwear you'll love
Our beautiful Eva pyjama range is crafted from 100% TENCEL™ Lyocell. Supremely soft, breathable and stylish, you'll enjoy a luxurious night's sleep every single night in a set of Eva TENCEL™ pyjamas. The range has options for both women and kids, making for a sweet twinning moment if you and your mini opt in for matching sets.
Our Eva TENCEL™ collection offers a host of stunning choices including long-sleeved, long-pant sets perfect for cooler winter nights, as well as short sets and sleep shirts for those in-between and warmer nights. Elegant piping details and pretty colour options (such as black, blush, white, navy, and eggshell blue) translate to a luxuriously dreamy sleepwear option that's also kind to the planet. Plus, did we mention that our Eva pjs are easy care machine washable?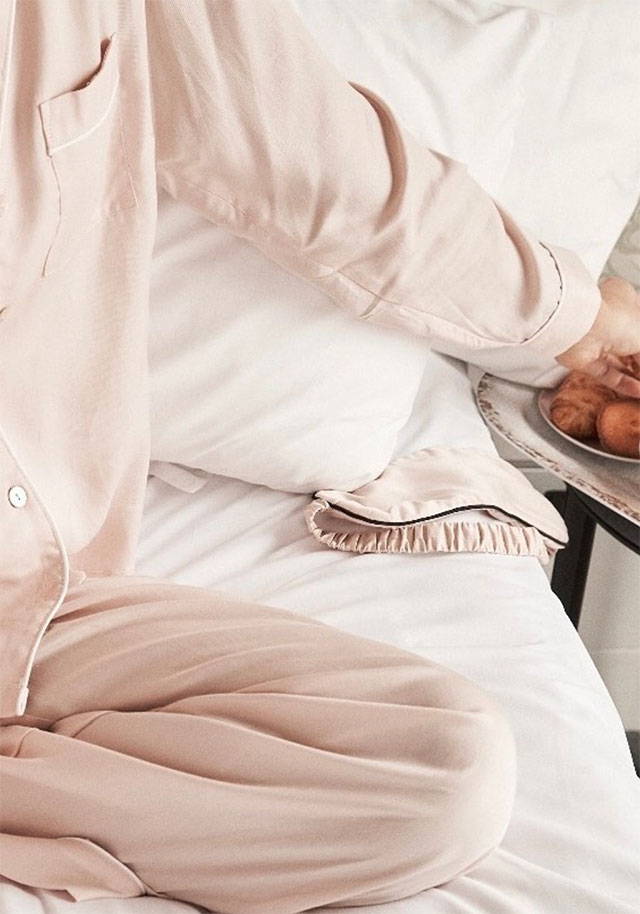 "Good night, sleep tight, sweet dreams."  
"Good night, sleep tight, sweet dreams."  
Here at Homebodii, TENCEL™ Modal is the foundational fabric of some of our all-time best-selling sleepwear, such as our Petra range. Cut from stretch TENCEL Modal, our Petra pjs are luxuriously soft, resistant to pilling, and when washed, beautifully retain the colour and shape. We adore this range as much for its buttery soft finish and feel as for its low ecological impact. We think you will too!
The relaxed yet refined silhouette of this pyjama range will have you feeling incredibly comfortable and stylish whether you're lounging at home on a weekend, book in one hand, cup of tea in the other, or settling into bed for a lovely night's sleep. Our Petra sleepwear collection includes matching long-sleeved pj sets, matching short-sleeved pj sets, sleep shirts, and kids pj sets. And to make your dreamy pjs truly your own, don't forget to opt in for our complimentary monogramming service.
We hope you enjoy the dreamiest night's sleep in soft, sustainable TENCEL™ Homebodii pjs! Xx Homebodii