Versatile spring linen pieces to wear from the bedroom to the beach
Spring into warmer weather in comfort and style
Published by Lucie Clark for Homebodii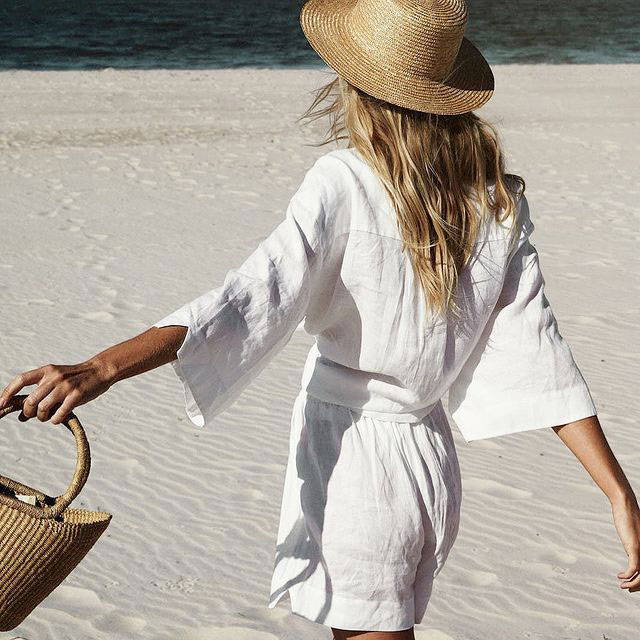 The birds are singing, the flowers are blooming, the sun is shining and there's a sweet scent of fresh beginnings in the air—spring is here!
This welcome change in season heralds not just warmer weather but also an urge to switch up and spring clean everything in your life from your home to your beauty line-up and of course, your wardrobe.
Say farewell to your wintry woollies for another year and say hello to effortlessly and stylishly stepping into spring in versatile linen pieces that will take you from the bedroom to the beach to brunch and back again.
Why you'll love linen for spring
Linen has been used in clothing and for bed sheets for centuries for very good reason. This gorgeous natural fibre checks so many boxes including sustainability, comfort, style, low-maintenance and durability.
From a sustainability perspective, linen is a very good friend to the earth and a great choice for the eco-friendly shopper. This natural fibre is made from the flax plant and every part of the plant is used to make it (so no wastage). It's also biodegradable and recyclable.
Linen looks exceptionally stylish and is a low-maintenance-no-iron fabric. In fact, linen looks even more chic with a natural, line-dried wave rather than a starched, just-ironed stiffness.
Then there's the extreme comfort factor. Linen becomes softer the more you wash it and as a natural fibre it "breathes" when you wear it. It's an easy-breezy, dreamily soft fabric to wear and sleep in making it the ideal fabric for any season but particularly spring. We love linen for spring and you will too!
"Sunshine is the best medicine!"
— Unknown
Stylish linen pieces to take you from the bedroom to the beach
Now that you're firmly on board the linen-for-spring train, what pieces should you update your wardrobe with?
Our linen sleepwear sets, robes and loungewear are so versatile and effortlessly stylish you really can wear them from the bedroom to the beach to brunch.
Case in point: our elegant Riviera Linen PJ Set is the ideal spring set to wear for a lazy Sunday morning around the house followed by an afternoon trip to the beach and sundowner cocktails in the evening. Pair your swimsuit and fave sunnies with the Riviera shorts to hit the beach, then throw on the top for a pulled-together look for cocktail hour or for an early night in, lounging (in style) on the couch.
Our Rebecca range of linen robes and cami sets are also spring wardrobe essentials. Comfortably take care of the changeable temperatures in spring by throwing an easy-breezy linen robe over your matching linen cami set.
You'll have a dreamy night's sleep in our Linen Long Sleeve PJ Set. This set is so versatile and comfortable you'll never want to take it off, which is totally fine because it looks equally stylish lying by the pool, sitting at the brunch table with friends, and cosied up with a good book in bed.
Keen to really own spring style this year? Personalise your spring linen pieces with our personalisation service.