The spirit of self-gifting
Beautiful holiday gifts for you
Published by Lucie Clark for Homebodii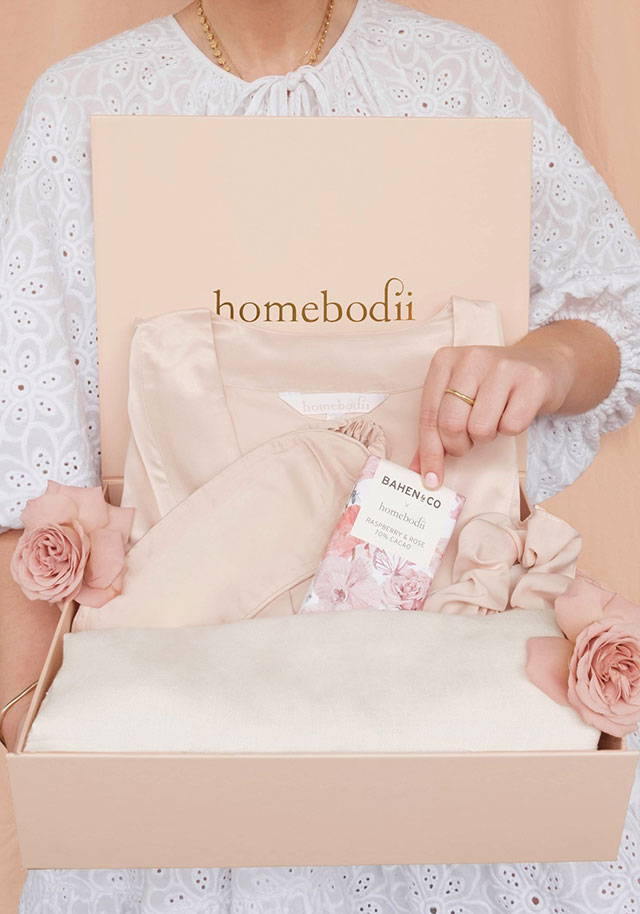 According to Fashion United, last year in the lead up to Christmas the trend of giving yourself a gift or "self-gifting" was set to hit an all-time high. And this year, we think it will be an even bigger trend. After the year 2021 has been, you deserve to treat yourself to a gorgeous gift that brings you joy!
And we have just the gift for you, from you: a luxurious hamper filled with beautiful items like chic and cosy pjs, fragrant candles, delicious chocolate (that you don't have to share with anyone else!), and more.
Pamper yourself
The gift of self-care is one of the best gifts you can give yourself especially during the festive season. Between buying Christmas gifts for everyone on your list, getting ready for Christmas Eve, Christmas Day and any other festive celebrations, silly season social catch-ups, and planning for the new year, it's the busiest time of year. This year, slow down and take some "me" time so you can enjoy the lead up to Christmas feeling relaxed.
Our Take A Moment Hamper in blush with white or eggshell blue – your choice – is the perfect pampering self-gift this holiday season. Inside you'll find everything you need for "me" time spent in your pjs, cup of tea in hand and nothing but relaxing on the agenda. Hamper includes a divine set of our matching Grace Satin Pyjamas, Homebodii x Byron Bay Glow Tea, Huskee Reusable Coffee Cup, Homebodii x Bahen & Co chocolate, and a handy tote bag.
Our Ultimate Homebody Hamper is another stellar self-care, self-gift to treat yourself to.
Holiday gifts you and the planet will love
Here at Homebodii, giving everyone a beautiful sleep this festive season and many festive seasons in the future is super important to us (we're proudly 70% sustainable). Say hello to She's Sustainable. This planet-loving hamper comes in a three beautiful colour options including blush, eggshell blue and navy, and features our 100% sustainable Eva pj set, matching eye mask and scrunchie – all made from TENCEL™. Plus, the gift box in this hamper makes for a great place to store cards or Christmas decorations post-festive season.
Happy housewarming gifts
New house? Recently renovated? Or planning an address change over the holiday season? Self-gift a happy housewarming hamper to warm and adorn your abode. We have a thoughtfully curated edit of new home hampers to choose from that are certain to spark joy. Choose from our Domestic Goddess Hamper or our Ultimate Homebody Hamper – both of which feature little luxuries for your new home like a beautiful linen apron, tea and bathroom-worthy Leif products. Visiting a friend's new house? One hamper for her, one hamper for you!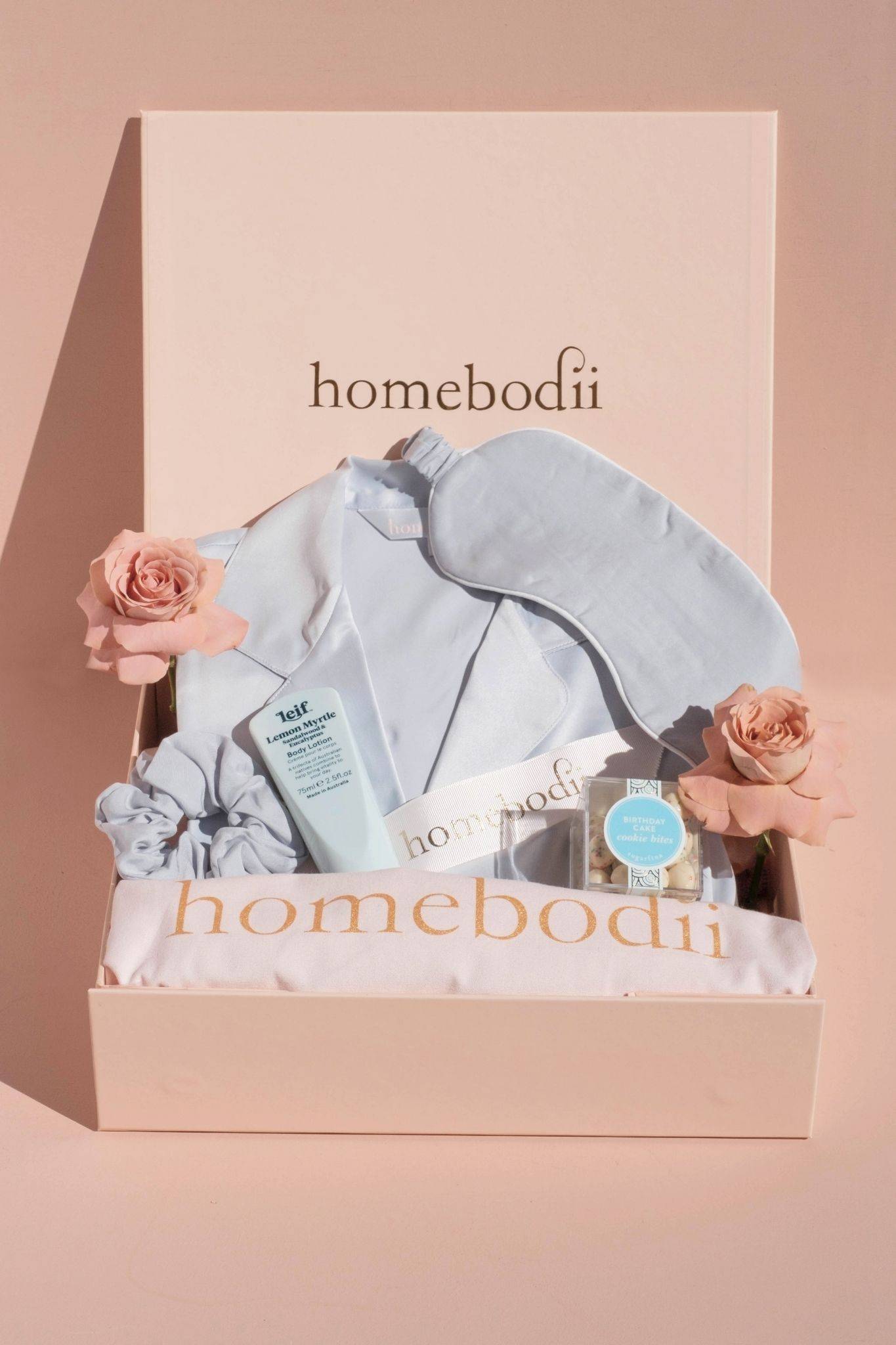 "Beautiful gift for a friend's birthday, was delivered quickly,
packed really nicely, she loved it."
— Nadia C. Verified Homebodii Buyer
Happy Birthday Hamper - eggshell blue
It's your birthday
Celebrating your birthday around the holiday season may mean your day gets a little overshadowed by Santa's big day. But, it's your birthday, so why not treat yourself to something that will make you feel very special (because you are!)? We have a slew of options for the birthday lady guaranteed to make you smile. Don't just take our word for it, our customers love our birthday hampers (see above). Shop birthday hampers here. And have a wonderful birthday!
For the bride-to-be
You're getting married! Congratulations. We have exquisite bride-to-be hampers to make your big day even more special. Our Luxury Bride to Be and Beautiful Bride To Be hampers include a floaty, feminine white robe to get ready for your big day in along with chocolates and other bride-to-be treats. Make your robe uniquely yours with our complimentary personalisation service.
After gifting yourself a gorgeous bride-to-be hamper, present your bridesmaids with their own special bridesmaid hamper. Shop our beautiful range of bridesmaid hampers for your bridal party, here.