Homebodii's Guide To Finding The Perfect Christmas Present For Her
Whether it's for the woman who has everything, the girl who doesn't want anything, or just someone special, finding the best thoughtful presents for the women in your life can take many Google searches and endless questions!

That's why we've compiled the top 7 easy, unique gift ideas to answer the question: what does a girl really want?


---
1. Comfy personalised PJ's
No matter who they are, everybody sleeps! There's something special about snuggling into bed at night in something a little different from everyday PJ's, which is why a pair of luxurious, personalised pyjamas can make the perfect gift! Our wide range of comfy PJ's covers all styles and colours – all you have to do is choose what will suit her the most! Plus, our complimentary personalisation on all our PJ's keeps buying a truly unique gift inexpensive.
2. Stylish, feminine dressing gown
A dressing gown is like a constant hug made stylish! Wrapping yourself up in a beautifully feminine robe can make any occasion stylishly special. Our Robes range here at Homebodii covers everything from cuddly winter robes, to transitional lace pieces that can take you from the bedroom to the beach. Plus, our complimentary personalisation is included with all our robes, making it the perfect unique, multifunctional gift.
3. Luxury velvet slippers
When wrapping oneself up in the love of loungewear, our feet often get forgotten about! That's why our Homebodii Florence Slippers make the perfect gift for the woman who has (almost!) everything. Not only does the velvet covering and silky cushioned lining make you feel like you've stepped out of a flowery French daydream, but the custom rubber sole can take you straight from home lounging to the local markets without having to change! Transitional, stylish, and ultra-comfy – these slippers are truly the perfect gift for her this Christmas!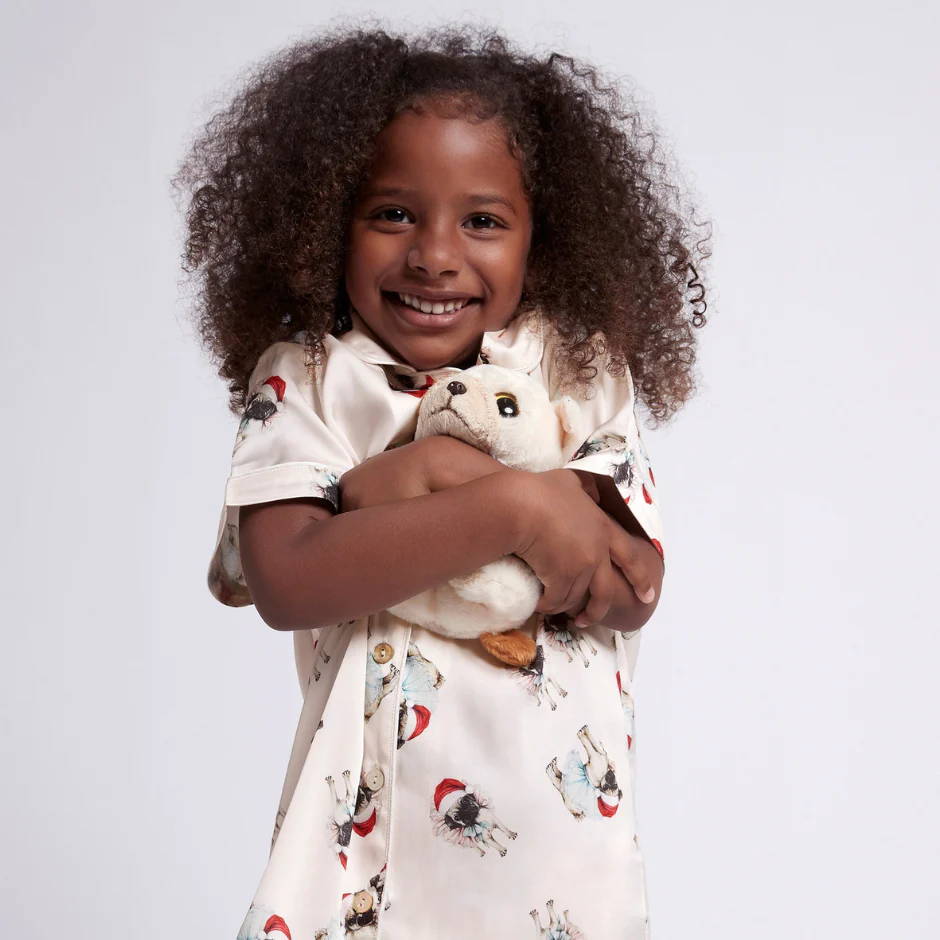 ---
4. Sleep in comfort and style
Comfy PJ's? Check. A robe for the morning? Check. But how can you make sleep itself, stylish? At Homebodii HQ, we've designed the perfect silky pillowcase and eyemask set, complete with complimentary personalisation and delicate piping trim. It's so simple yet so thoughtful, and once you've got it you'll wonder how you ever slept without it!
5. A good read
There's nothing better than settling down on a summery afternoon or a winter's morning with a good cup of tea and a beautiful book. Our gorgeous selection of coffee table reads have been handpicked for true homebodys by our team, making the perfect gift for lovers of lounging and life!
6. Mummy and Me PJ's
For the amazing mums in our lives, there's nothing like the special bond of matching PJ's! Playing dressups for a stylish sleepytime with their mini-me is a thoughtful and extra-special gift this Christmas. Our range of Mummy and Me PJ's take some of our favourite designs, and size them down to create the perfect pair.
7. Bundle of love
If you can't pick one thing, or want to give her everything, our range of carefully curated Homebodii hampers has you covered! With everything from candles, to chocolates and tea, to beautiful Homebodii PJ's, our selection of hampers is perfect for all types of homebodys. Give the gift of relaxation and unwinding to that someone special this Christmas!
---