Former Miss Universe Australia and mum, Monika Rad, talks motherhood, modelling and the cosy robe she's gifting this Mother's Day
"You can't go wrong with a luxurious plush robe no matter the personal style of the mama you're gifting it to," Monika says.
Published by Lucie Clark for Homebodii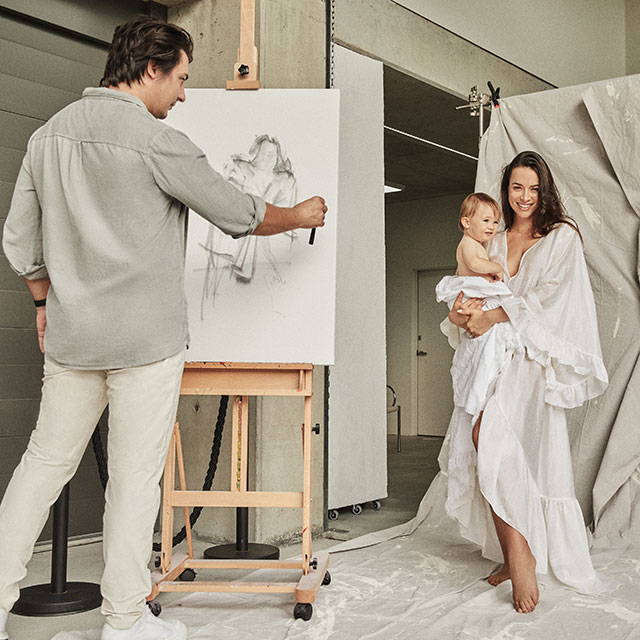 For Mother's Day this year we're delighted to have former Miss Universe Australia, Monika Rad, as our Mother's Day muse. The ever-stylish Monika (find her on Instagram at @monika_rad), is mum to a beautiful son, Luka, who, along with Monika's artist husband, Alesandro Ljubicic, features in our Mother's Day 2022 campaign – which celebrates family, your passions, unity and love.
Here, Monika talks balancing motherhood with modelling, her Miss Universe Australia journey, what it means to her to partner with Homebodii, the plush robe she's gifting her mum and mother-in-law ("I definitely think [it's the] perfect gift idea"), and the Homebodii robes, pj and lounge sets she adores (take note and add to your cart!). The model also shares a beautiful Mother's Day message.
As our Mother's Day 2022 muse featuring in our beautiful photoshoot with your son Luka and husband Alesandro, can you please share how you balance your modelling career with motherhood?
"Since becoming a mum, I've come to realise it's really true what they say: it takes a village to raise a child. I couldn't have any sort of career without the support I've received from my amazing family. Alesandro is extremely busy (like, beyond!) with his company The Sydney Art Store and painting full-time, yet he drops everything when I need help with Luka on days I'm working. Then there's our parents who all help out whenever I need someone to babysit Luka so I can work and are so generous with their time and assistance. I mean, even on our Homebodii shoot, Alesandro's mum was there on standby to take Luka for a walk and a play when it was my turn to shoot alone. I know I am extremely lucky to have the support that I have and I definitely don't take it for granted!
But also, I have to say for right now, motherhood comes first and foremost, and I see work as some part-time fun that I get to enjoy, take off my "mum" hat and have some Monika time. I love being a hands-on mum and it's really important for me to be there as much as I physically can for my little man. Again, the fact that I have the luxury of being able to spend so much time with Luka as I do is something I am so grateful for."
Shop our Mother's Day edit, here.
Please share your Miss Universe Australia journey from when you first entered to being crowned Miss Universe Australia and your year in the role.
"I entered Miss Universe Australia on a whim because I was losing interest and motivation in my full-time modelling career; although I loved all the creative people I had the pleasure of working with and the travelling was so much fun, I felt I needed to be stimulated more. So, Miss Universe seemed like the perfect platform where I could take all the skills I'd learnt as a model being in front of the camera, but use them to a deeper extent. It allowed me to become a brand ambassador where I was able represent brands as Monika the person and share my own values and opinions, not just a brunette that fit the brief of the modelling job. I have my honours degree in psychology so I also saw Miss Universe as a fantastic platform where I could raise awareness of the importance of mental health and the advantages of having a positive mindset in life.
My year as Miss Universe Australia was an incredible whirlwind where I gained so much in terms of rich experiences and had lots of fun. The most insane part was participating in the international pageant in Vegas which was watched by 2 billion people! I was third runner up and that experience will stay with me forever. Being Miss Universe Australia was the platform that catapulted my career and I'll forever be grateful for the opportunity!"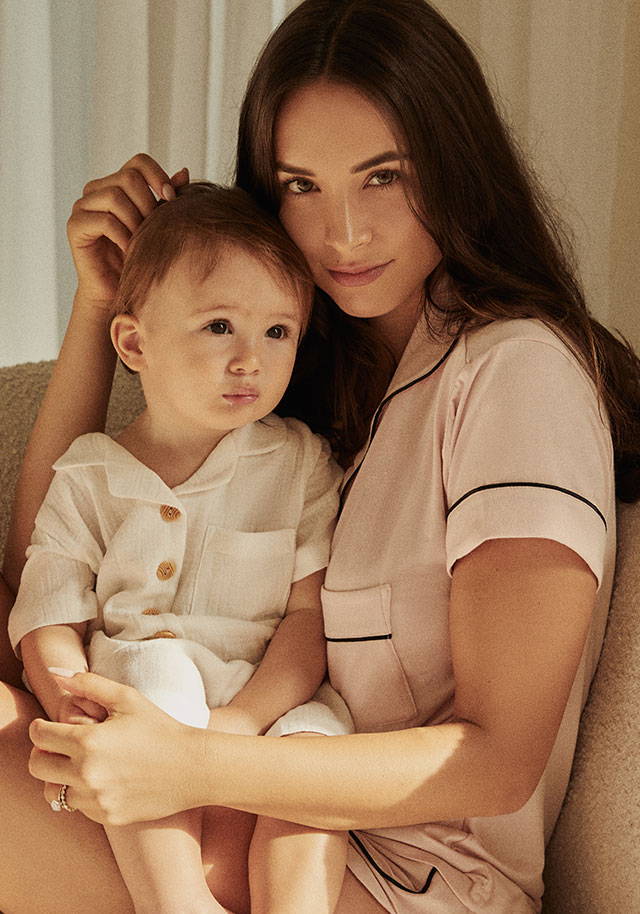 "I just want to wish all the mamas out there a very happy Mother's Day. You are all superwomen and I hope that you get spoilt and feel so loved on Mother's Day (and every other day for that matter!). And to all the people who are missing a special person and find the day challenging, I send you love and strength."
xxx Monika
"I just want to wish all the mamas out there a very happy Mother's Day. You are all superwomen and I hope that you get spoilt and feel so loved on Mother's Day (and every other day for that matter!). And to all the people who are missing a special person and find the day challenging, I send you love and strength."
xxx Monika
Homebodii is a female-led brand who supports women as well as having a strong eco focus with a sustainable range. Can you please share what it means to you to partner with our fabulous Australian brand?
"Being able to work with Homebodii and be named their Mother's Day muse is an honour, as it's truly a dream brand for me. Firstly, it goes without saying that I absolutely adore the gorgeous pieces that make up the brand. The quality is next level, the cuts are so flattering, the fabrics are so well thought out, so they feel incredible against the skin and they truly make me want to take sleepwear and loungewear out of the house and rock them out and about!
But the more I learn more about the brand, the bigger fan I become. The fact that they are a strong female-led brand with such a beautiful ethos of wanting to enrich women to feel their most beautiful, comfortable, and empowered, oozes through all aspects of the brand and is such a wonderful trait to see. And on top of this, they show true care about our beautiful Earth. Their focus and passion for sustainability is really inspirational and shows us that you don't have to compromise on style, fashion or luxury while also looking after the environment and leaving a smaller carbon footprint. I'm bursting with pride to be aligned with such an incredible brand."
Shop sleepwear here, and shop our sustainable edit, here.
Which Homebodii pieces would love to receive (or give!) for Mother's Day?
"Well, I'm gifting both my mum and mother-in-law the Ultimate Lux Robe in Blush so I definitely think that's a perfect gift idea! You can't go wrong with a luxurious plush robe no matter the personal style of the mama you're gifting it to. And as a mum myself, I think there's nothing cuter than wearing matching outfits with my little man, so I'm a sucker for anything in Homebodii's Mummy & Me collection. Luka wore the Piper Bubble [Cotton Children's] Short Pyjama Set on our shoot and it was TOO CUTE! I love that Homebodii gives the gift of stylish pjs to our little ones too :)."
Shop matching pj sets in our Mummy + Me collection, here.
What is your ideal way to spend Mother's Day?
"Honestly it doesn't take much to make my Mother's Day a happy one. I just need to have my family around me and spend some quality time with them. And that's exactly what we'll be doing this year; having an intimate lunch at one of our fave restaurants (Cooh in Alexandria for my Sydney people!) with Alesandro, Luka and I along with both of our parents and my brother Stefan and his girlfriend. Oh and a sleep-in wouldn't be bad either ;)."
Homebodii was part of your wedding wardrobe - which piece/s did you wear and what was it about those particular pieces that drew you to including them in your big day?
"I've been a massive fan of Homebodii since I discovered it while modelling some pieces on The Iconic way back in 2015 or so. I noticed the quality instantly and didn't want to take them off so when it came time to planning my wedding, the beautiful Homebodii robes were one of the first purchases I made. I wore the Helena Long Lace Robe. I selected it because I adored how feminine and romantic the semi-sheer chiffon was with a touch of lace detail that added real elegance. I remember the way the fabric moved so effortlessly while we took photos, and I felt so sexy and beautiful whilst wearing it. My bridesmaids wore the Olivia Luxury Satin Robe in Blush. I loved the softness of the colour, and the lace detail on the sleeves tied in perfectly with my robe."
Shop robes, here
What are your favourite Homebodii pieces and why those?
"Ahhh this is such a tough question as I love so many!! I'd have to say the Gaylene Linen Robe is spectacular. It commands attention and is an absolute showstopper, so it's the perfect robe to wear for your wedding day, or even a maternity shoot (I'm thinking ahead for myself haha!).
Then the Ultimate Lux Robe is the soft, cosy robe every single woman needs in her life! I have one in white and I am so excited for winter to come so I can constantly live in it. It's like getting a big warm hug, and it's the perfect thickness so you don't feel like you're drowning in it.
And finally the Riviera Linen Pyjama Set is so effortlessly cool! I have it in white and I love the comfy, oversized linen look. This is one of the looks that I could totally rock out and about - a chic linen set never goes out of style! Okay, I lied… I've got to mention one more because the Kiralee Luxury Satin Pyjama Lounge Set is the MOST elegant, stylish PJ set I've ever seen! The slits in the pants are iconic. I absolutely adore it!"
How would you define your personal style and who are your style icons?
"I think my personal style changes from season to season, and how I'm feeling on that particular day. I love incorporating femininity in my style and I really feel beautiful when I do so, but then there are days where dressing more strong and powerful is how I feel my best. And then of course there are days (or let's face it weeks) that I just wear activewear constantly as I don't have the energy to be creative in my looks because #MOMLIFE. But I think all in all, I love embracing an effortless cool vibe no matter what I wear, and Rosie HW [Huntington-Whiteley] does this so well. I mean it doesn't hurt that she looks like that either I guess ;)."
Photograhy: Luke Dubbelde
Styling: Brie Stevensen