Dreaming of a vacay with your mini complete with cute matching pjs?
Check in for some very special mummy and me time
Published by Lucie Clark for Homebodii
Image credit: Dorsett Gold Coast
There's nothing cuter and more memorable than a matching mummy and mini fashion moment, especially if that fashion moment involves matching Homebodii pyjamas. And that's why we're thrilled to be part of swish Gold Coast hotel, Dorsett Gold Coast's, special Mummy & Me package. As part of the stellar vacay package, guests receive a gift card for matching mummy and mini Homebodii pjs from our sustainable Eva range.
Read on for all the details of this special vacay as well as other gorgeous mummy and mini matching pyjama options to create memories at home every day in twinning style and comfort.
So… how does this mummy and mini matching pj vacay work? The Dorsett Gold Coast's special Mummy & Me package includes all the gorgeous elements for busy mums and their minis to enjoy a wonderful holiday on the sunny Gold Coast together including a Polaroid camera to capture all the special trip moments, admission to Currumbin Wildlife Sanctuary for one adult and one child, and a gift card on arrival to go directly to our beautiful Homebodii Pacific Fair store to collect matching colour co-ordinated pjs from our super soft, stylish and sustainable Eva pyjama range.
"We are delighted to collaborate with Homebodii on our Mummy & Me package. Homebodii is a fantastic local success story, whose eco-conscious focus aligns so well with Dorsett Gold Coast's values. We're grateful to Homebodii for welcoming our guests into the store to pick out their matching mum and mini pyjamas. This unique VIP experience makes our Mummy & Me package incredibly special," Christian Wachter, Dorsett Gold Coast General Manager said.
Find all the details of the Mummy & Me Dorsett Gold Coast package, here.
Pictured in matching Eva TENCEL™ pajamas @the.quinn.girls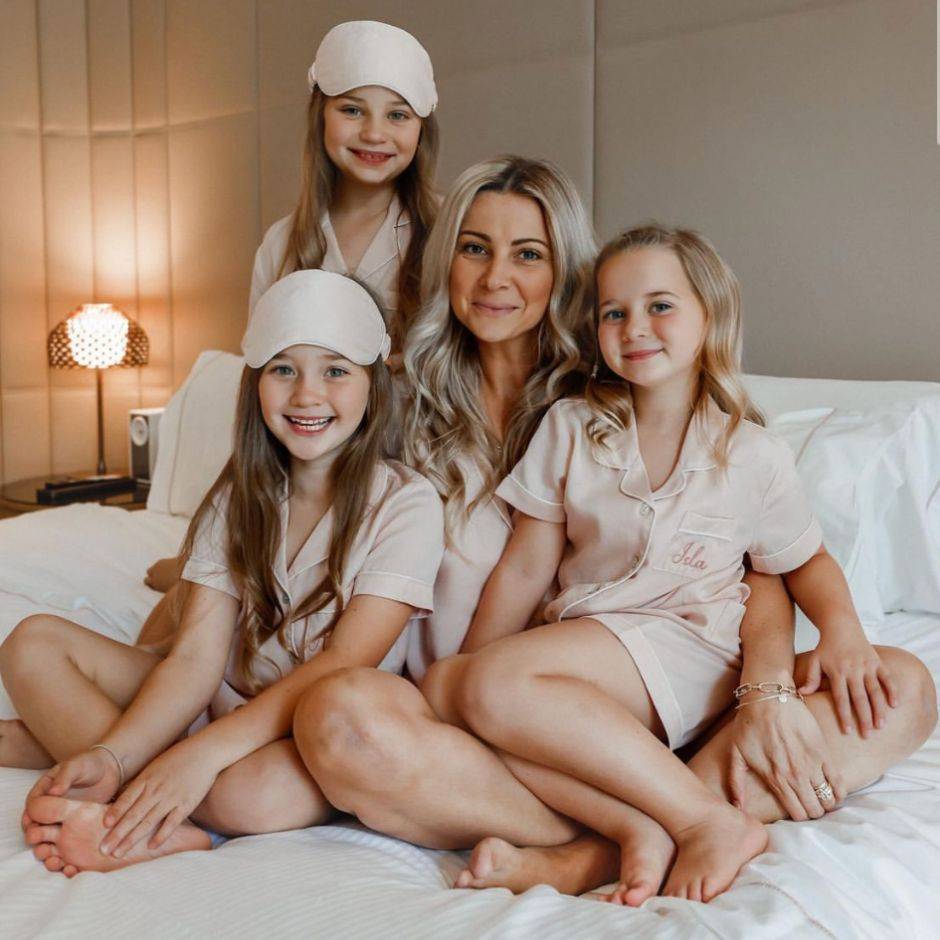 "A daughter is someone you laugh with, dream with,
and love with all your heart." 
— Unknown
"A daughter is someone you laugh with, dream with,
and love with all your heart."
— Unknown
Matching mummy and mini pjs
Our Eva pjs are a gorgeous pj option for a matching mummy and mini fashion moment, whether you're on a holiday or for every day at home. Made from super soft environmentally sustainable TENCEL™, these pjs not only look and feel beautiful, but they're kind to the planet too. Stylish piping details and three colours to match with your mini (blush, navy and eggshell blue) – our Eva pjs are a must-have mummy and child pj matching set.
Another adorable pj duo is our blush pink Grace pj set. Made in kids and mummy sizes, these blush satin pjs are highly glamorous and will have you and your mini feeling straight out of a Hollywood family movie!
For the classic cotton pj-lovers, look to our matching mummy and mini Piper Bubble Cotton pj sets. Made from 100 per cent cotton and with stylish details like wooden buttons, these pjs are a dreamy addition to you and your mini's sleepwear line-up (not to mention how sweet they look when you're both wearing them!).
Shop all mummy and me matching pjs, here.